The newly appointed Ambassador of India visited the Bulgarian Chamber of Commerce and Industry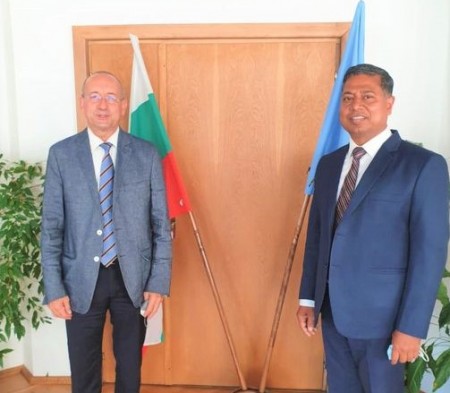 H.E. Mr. Sanjay Rana, Ambassador Extraordinary and Plenipotentiary of India to Bulgaria, visited BCCI and spoke with the Chamber's President Tsvetan Simeonov. Mr. Rajesh Lal, Second Secretary and Head of Chancery at the Embassy, also took part in the meeting.
Tsvetan Simeonov acquainted the guests with the activities of the Bulgarian Chamber of Commerce and Industry in support of business and its long-term cooperation with the Federation of Indian Chambers of Commerce and Industry (FICCI), dating back to 1976 when a cooperation agreement was signed between the two organizations.
Ambassador Rana presented information about an upcoming virtual event in the field of Indian crafts, in the period 21-24 September 2021, organized together with Indian embassies and consulates general in the United Kingdom, European and CIS countries and with the support of the Government and Ministry of Commerce and Industry of India.
It was agreed that next month the BCCI together with the Federation of Indian Export Organizations (FIEO) would organize an interactive session to present trade and investment opportunities in Bulgaria.