BCCI presents Bulgaria in figures®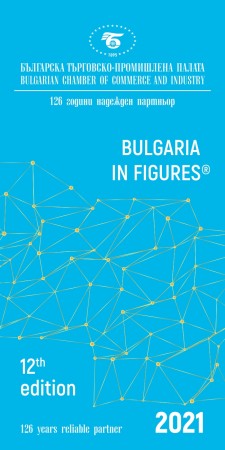 The Bulgarian Chamber of Commerce and Industry presents the 12th edition of "Bulgaria in figures®". The brochure reports only objective statistical data and the country's place in international rankings. The data show the results of the previous year when Bulgaria and the world were faced with the COVID-19 pandemic, which led to the disruption of supply chains and a change in the work mode both for companies and employees. The new conditions require that all findings be considered critically.
The brochure reviews 27 rankings compiled by international institutes and organizations, which determine the place of Bulgaria according to various criteria and give an assessment of its current state, thus serving as a starting point for investors. These include business environment, healthcare, the rule of law, competitiveness, digitalization, etc.
According to the report of the Heritage Foundation, Bulgaria shows stable positions in terms of economic freedom ("Economic Freedom Index") and improves its position with one place - 35th worldwide compared to 36th in 2020. An improvement is observed in the categories "property rights", "government integrity", "business freedom", "tax burden", etc.
In the Legatum Institute's prosperity index, Bulgaria is also improving its overall score, climbing one position to 48th place. The country performs best by quality of the economy and education, and worst in terms of social capital.
In 2021, Reporters Without Borders lowers Bulgaria's position from 111th to 112th in the global press freedom index, ranking it last among EU member-states by this indicator. According to the Reporters Without Borders report, the lack of investigation and condemnation of violence against journalists are among the main reasons for the deterioration of the media environment in the country.
In the world competitiveness ranking, Bulgaria lags behind by 5 places in 2021, ranking 52nd out of a total of 63 countries. According to a study by the Institute for Management Development (IMD), Switzerland, which was conducted in partnership with the BCCI in 2021, Bulgarian economy continues to grow, but at a relatively slow pace and is still far from its full potential. The country is 15 positions behind, compared to 2009. According to the IMD report, the main challenges facing Bulgaria in 2021 are: political instability and slow rate of COVID-19 vaccination; limited diffusion of the e-government solutions; slow energy transition and high energy costs for businesses; lagging quality of university education, brain-drain and low R&D spending, as well as persistent governance and corruption issues.
With the new edition of "Bulgaria in figures®" we hope to give investors a clearer and better idea of ​​the business environment in Bulgaria. We believe that by increasing the efforts to eliminate the weaknesses of the economic environment identified by the various rankings, we will create conditions for increasing the interest of entrepreneurs in our country.
You could receive more detailed information HERE