Назад
Intensifying the business partnership with Brazil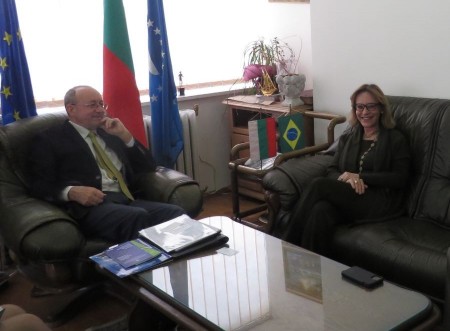 The Ambassador of Brazil in Sofia H.E. Maria Edileuza Fontenele Reis visited the Bulgarian Chamber of Commerce and Industry and held a working meeting with President Tsvetan Simeonov. She presented up-to-date information on the development of the Latin American country's economy and pointed out specific areas in which there is a growing interest in bilateral cooperation.
Brazilian companies are looking for contacts with fertilizer producers. They want to diversify their suppliers of substances for agriculture, which is very developed in the country.
Brazilian producers offer different types of nuts (peanuts, macadamia nuts, cashews, etc.), which have so far been sold in Russia and Ukraine, but because of the war now are looking for alternative markets.
Tsvetan Simeonov was informed that the first meeting of the Joint Intergovernmental Commission for cooperation between Bulgaria and Brazil in several areas, including trade and investment, is being prepared. In this regard, initiatives in favour of business to be included in its program such as participation in exhibitions and fairs, activities to attract potential investors and others were discussed.
Ambassador Reis confirmed that the Brazilian market, which numbers 250 million people, has the capacity to accept an exceptional variety of Bulgarian goods and is promising, as consumers are very curious and ready to try unfamiliar products.
The Bulgarian Chamber of Commerce and Industry has received information that Bulgarian importers can visit Brazil with covered expenses under a program of a state organization aiming to support exports.