NEWS FROM BCCI
The newly-appointed Bulgarian Ambassador to Kazakhstan visited BCCI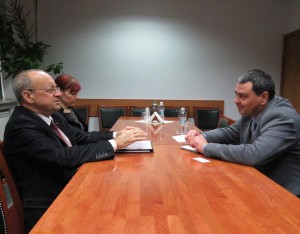 Boyan Hadzhiev, the newly-appointed Ambassador of Bulgaria to Kazakhstan, visited BCCI and discussed with the President of the Chamber Tsvetan Simeonov the dynamics of the commercial and economic relations between the two countries.
Tsvetan Simeonov presented information on the current economic situation in the country, the main macroeconomic indicators and Bulgaria's place in the international rankings. The trade between Bulgaria and Kazakhstan was discussed, noting the untapped potential in the sectors of production of machinery for the food industry, tourism, construction, transport and mining.
The President of BCCI acquainted his guest to the Chamber's relations with partners from Kazakhstan, the signed cooperation agreements and exchanged delegations.
Ambassador Hadzhiev outlined the priorities of his term of office, emphasizing the need to intensify the bilateral trade and strengthen the economic relations.