NEWS FROM BCCI
Partnership with the Commercial Section of Russia in Bulgaria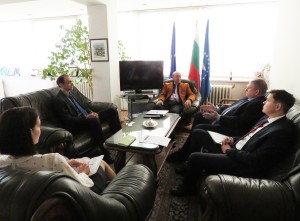 The President of the Bulgarian Chamber of Commerce and Industry Tsvetan Simeonov discussed with partners from the Commercial Section of the Russian Federation in Bulgaria the bilateral economic cooperation and cooperation with the Chamber in 2020.
Konstantin Artyushin, Commercial Representative of Russia in Bulgaria, Vadim Bikov, Deputy Commercial Representative, and Ivan Zarubin, representative of the Russian Commercial Section, informed that the next session of the Intergovernmental Commission will be held in September this year in Sochi. The organization of a business forum simultaneously with the government level meetings is also being discussed.
Tsvetan Simeonov accepted the guests' proposal for maintaining active and regular cooperation between BCCI and the Commercial Section of the Russian Federation for the exchange of business information – economic data, legislation, business offers, international specialised fairs and exhibitions, etc.