NEWS FROM BCCI
BCCI took part in the European Parliament of Enterprises in Brussels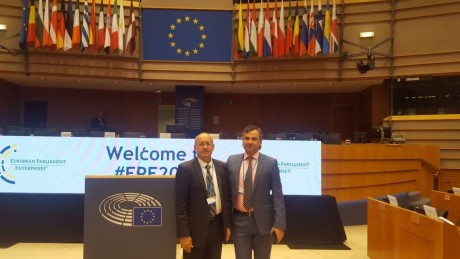 The final European Parliament of Enterprises of the 2014-19 legislative term - gathering more than 700 entrepreneurs in the Brussels Hemicycle - sent a clear message to the ongoing debate on the Future of Europe: the EU must be open for business!
Entrepreneurs from across Europe debated and voted in sessions on skills, trade and the future of Europe in the presence of high-level institutional representatives, including European Parliament President Antonio Tajani; Trade Commissioner Cecilia Malmström; Chief Brexit Negotiator, Michel Barnier; and the Principal Advisor to the Austrian Presidency of the EU, Andrä Rupprechter.
The Bulgarian Chamber of Commerce and Industry (BCCI) was represented at the EPE2018 by its President Tsvetan Simeonov and Vice-President Georgi Stoev, as well as by companies – members of the Chamber.
On the Bulgarian side, in the first session dedicated to "Skills" a speech was delivered by Rosen Daskalov, owner of company "Sin Cars International". He emphasized the role of education as a prerequisite for acquiring skills, in particular Entrepreneurship training since the 1st grade – which is the basis for applying these skills in the best possible way. Another topic in his address was the new initiative – Mobility and Traffic Safety training, as a personal contribution and responsibility for fewer road accidents.
The discussions and votes revealed concerns among entrepreneurs about skills mismatches, single market access and the direction of the global trade agenda. At the same time, the Members of the European Parliament of Enterprises expressed support for a strong, efficient and unified EU in order to tackle these challenges effectively.
Voting highlights from the European Parliament of Enterprises 2018 included:
An alarming 84% stated that the skills mismatch problem is more acute than 5 years ago
93% voted that the integrity of the Single Market and EU unity take precedent over a favourable Brexit deal with the UK
99% believe that the EU must do more to help SMEs benefit from free trade agreements
69% do not believe that the Single Market is fit for business
Full results of votes on topics ranging from the EU budget to enlargement, can be found HERE.