NEWS FROM BCCI
Bulgarian delegation took part in the Three Seas Initiative Business Forum in Ljubljana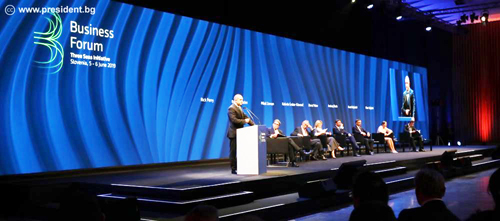 A business delegation accompanied the President of the Republic of Bulgaria Rumen Radev at the Fourth Summit meeting and Business Forum of the Three Seas Initiative on 5 and 6 June in Ljubljana, Slovenia.
BCCI, as a partner of the Three Seas Initiative and the network of chambers of commerce of the countries of the Initiative, prepared the participation in the event in cooperation with the Administration of the President of the Republic of Bulgaria.
The business delegation was led by Ivaylo Dermendzhiev, member of the Board of Directors of BCCI and member of the Presidium of the Arbitration Court at BCCI, and included representatives of Bulgarian organizations, banking institutions and companies from the sectors of innovation, infrastructure, finance, investment, energy, etc.
The President of the Republic of Bulgaria Rumen Radev took part in the Summit and the work of the forum within the framework of the Initiative. The Bulgarian Head of State participated in a discussion within the presidential panel of the forum, together with the presidents of Slovenia, Croatia, the Czech Republic, Estonia, Latvia, Lithuania, Poland, Romania, as well as representatives of Slovakia and Hungary, and the United States Secretary of Energy Rick Perry. President Radev called on the countries of the Initiative for specific investment dimensions of the connectivity projects. According to him, the Three Seas Initiative has begun to leave the sphere of political speech and to acquire more concrete dimensions with the idea about the establishment of an investment fund.
Bulgarian Minister of Economy Emil Karanikolov also took part in the Forum - in the "Innovation" panel. In his address Karanikolov said that the challenges in the region of the three seas, such as fast technological changes resulting in abrupt changes in the economic relations, and the barriers to business development, require active work and joint policies that come closer to the daily problems of business people and researchers.
The Bulgarian businessmen participated in numerous fruitful meetings with partners from the countries of the Initiative, organized through a mobile application. Nearly 600 participants took part in the event. A number of international and national projects were in the focus of discussion.