Назад
GS1 in Europe Regional Forum 2022 will be held in Amsterdam, 17-20 October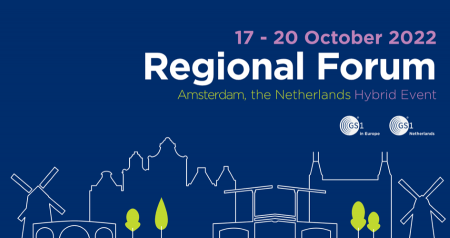 From: 17 October 2022 To: 20 October 2022
An annual regional meeting of GS1 Member organizations will be held in the period 17-20 October 2022 in Amsterdam, the Netherlands. The GS1 in Europe Forum is the foundation for cooperation between 49 Member Organisations from Europe and Asia. The Forum gathers European business leaders, European Associations, and companies wanting to use the GS1 standards for enabling a seamless customer experience. Many topics such as traceability, marketplaces engagement, global data models, innovation, circular economy, and the digital journey are among the essential topics that will be discussed during the event.
GS1 Bulgaria will participate in the forum with a delegation led by Tsvetan Simeonov, President of GS1 Bulgaria and President of the Bulgarian Chamber of Commerce and Industry (BCCI), and including GS1 Bulgaria Board Members and experts.
This year the Regional Forum will take place in a hybrid format, in Amsterdam, hosted by GS1 Netherlands, and virtual for online attendees.
Companies, both members of GS1 Bulgaria and not, can also participate in the forum, on Monday 17th and Tuеsday 18th in sessions marked as "open to companies". Online participation is free of charge. "In-Person Only" is also free of charge, but please note that travel expenses should be covered be yourself.
Link for registration