Назад
Bulgarian company wins Health Tech Innovation Award at Med-Tech World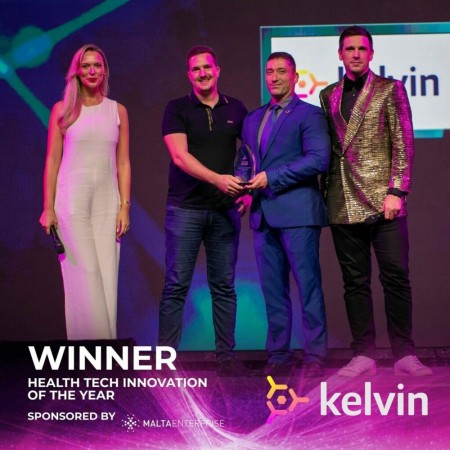 Kelvin Health's CEO Georgi Kadrev, second from right, and CTO Georgi Kostadinov, second from left (Photo by Kelvin Health)
The Bulgarian health tech company Kelvin Health won the "Health Tech Innovation of the Year" award at the Med-Tech World conference in Malta earlier in November. Kelvin Health's winning project is a thermography AI tool for easy diagnostics of health conditions like peripheral arterial disease and breast cancer.
Med-Tech World brought together leading companies, start-ups, investors, healthcare professionals, and media under one roof in St. Julian's, Malta, November 17-18. The event featured presentations by leading experts, an expo show, and networking sessions. Kelvin Health's CEO Georgi Kadrev and CTO Georgi Kostadinov were among the presenters.
Kelvin Health develops a thermography-based AI tool that uses a portable thermal imaging camera to capture the heat of the body, segment the thermal image, and apply artificial intelligence to detect anomalies related to vascular conditions, as well as inflammatory and oncological diseases. The thermal camera can capture the heat of the body even under layers of body tissue. It causes minimal physical discomfort, is affordable and presents no logistical challenge.
Wide-scale use of this solution would be a major breakthrough in healthcare considering that more than 230 million people worldwide suffer from Peripheral Arterial Disease (PAD) and more than 40% of them are asymptomatic. The difficult access to frequent screening and monitoring at present leads to complications, such as Critical Limb Ischemia (CLI), that lead to very unfavorable complications including amputation or even death.
The team has implemented the software backbone, the machine learning toolchain, and a mobile app for research data collection. They have already established research collaboration agreements with hospitals in Bulgaria, Slovenia, and Greece, collected more than 2,700 thermal images of more than 400 patients, and are working on expanding these even further.
"We continue working with hospitals to expand our patient and thermograph database, and considering reimbursement and certification strategies," Pavel Andreev, CPO at Kelvin Health, told BTA. They also expect to have a camera prototype in December 2022, working together with a leading regional manufacturer.
In April 2022, Kelvin Health won Roche's HealthCare Lab challenge in the Screening and Early Diagnostics track.