UPCOMING EVENTS
Science for Business: Innovations are here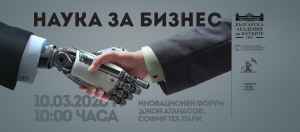 The Bulgarian Academy of Sciences (BAS) and the Bulgarian Small and Medium Enterprises Promotion Agency (BSMEPA) join forces for the first event of its kind which will present the latest innovative developments of the Academy, ready to turn into a successful business. The event, entitled Science for Business, aims to show to Bulgarian business circles that BAS manufactures many products and technologies ready to enter the market or be introduced into production to optimize business processes.
The main mission of "Science for Business" is to set another step on the path of building a sustainable institutional environment for cooperation and interaction between Bulgarian science and business. The event will be held on 10 March 2020 at 10.00 am during the John Atanassov Innovation Forum in Sofia Tech Park, bringing together representatives of institutes, laboratories and the Joint Innovation Center of BAS and dozens of Bulgarian entrepreneurs, business owners and innovative enthusiasts.
The forum will feature joint projects between BAS and Bulgarian enterprises that have succeeded in establishing themselves on the market as well as the applied products and technologies of researchers from the Academy which are currently under development. With a number of presentations, the event will showcase the most interesting projects of the Academy for the optimization of industrial tasks, 3D digitization, energy efficiency, hydrogen technologies, ecology, waste treatment, electrical and heat production, energy storage, medicine, pharmaceutical industry, vine growing, winemaking and many others.
The guests of "Science for Business" will be able to touch the prototypes of the latest products created at BAS scientific institutes, displayed at stands in the lobby of "John Atanassov" Hall in Sofia Tech Park as well as to contact representatives of the Academy and the Bulgarian Small and Medium Enterprises Promotion Agency.
The networking area will enable new contacts to be created between companies with an interest in innovative investing, representatives of science and government institutions.
The event requires registration here: https://docs.google.com/forms/d/e/1FAIpQLSfSCDqLvVXfVLmWO9sFjQhozuyeVETaQ6yiEtfm0P2l2x9uWw/viewform