NEWS FROM BCCI
Activation of the business contacts between Bulgaria and Ireland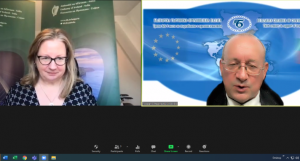 The President of BCCI Tsvetan Simeonov met with H.E. Martina Feeney, Ambassador Extraordinary and Plenipotentiary of Ireland, who recently arrived in Sofia. He provided the diplomat with up-to-date information on the partner relations between the chambers of commerce and industry of both countries, which, in addition to their bilateral cooperation, communicate very actively within the Association of the European Chambers of Commerce and Industry (EUROCHAMBRES).
Tsvetan Simeonov also presented the guidelines for the work of the BCCI as a nationally recognized business and employers' organization. Ambassador Feeney stressed that her country is closely involved with the International Labour Organization (ILO) and the celebration of the organization's 100th anniversary. One of the authors of the Declaration of Philadelphia /1944/, which states the main goals and objectives of the ILO, is Irish.
The President of BCCI and the diplomat discussed the negative impact of the COVID-19 crisis on the life and economy of both countries, as well as on business, internationalization and digitalization.
Simeonov informed Ambassador Feeney about the leading initiatives of the BCCI, including the EU Club, the Investment Council, as well as the main services and activities of the Chamber.
An active exchange of information was agreed in order to facilitate and support business cooperation between Bulgarian and Irish companies.