Meeting of the nationally representative employers' organizations with the Minister of Culture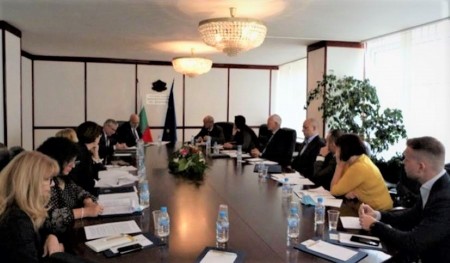 The Minister of Culture Prof. Velislav Minekov met with the leaders of the nationally representative employers' organizations. The meeting, which was held at the Ministry of Culture, was attended by the Deputy Minister Assoc. Prof. Dr. Plamen Slavov, as well as directors of directorates in the Ministry of Culture.
The Bulgarian Chamber of Commerce and Industry was represented by the President Tsvetan Simeonov, and Lyubomir Levicharov, Chief Expert "Economic Analysis and Policy".
Minister Minekov and his team presented in details the draft budget of the Ministry of Culture for 2022 and the budget forecast for 2023-2024. The main goal of the Ministry is to make culture a priority of management policy for 2022, as well as to move towards a sustainable annual increase in funding for the sector by 0,2%. The team of Minister Minekov will insist the funds in the State Budget for the Ministry of Culture for 2022 to be increased from BGN 244 million to BGN 363 million, so that by supporting the activities of the Ministry, strengthening, promotion and development of the Bulgarian identity, culture and spiritual values is achieved.
Specific issues in the field of cultural heritage protection, management of cultural institutions, co-financing by municipalities, regulations in the field of culture (prepared proposals for amendments to the Cultural Heritage Act, the Protection and Development of Culture Act, the Law on Radio and Television, etc.) were also discussed during the meeting.
The President of BCCI Tsvetan Simeonov noted that so far such meetings have been initiated by employers and expressed satisfaction that for the first time the representatives of employers' organizations were invited to such a preliminary discussion regarding the state budget for next year. Simeonov supported the Ministry's request to increase funding in the sector. However, this increase should not be unconditional, but should be accompanied by concrete measures to improve the functioning of the individual systems in culture and their social mission. Steps need to be taken to improve access to museums, including on weekends, and cofinancing of libraries needs to be linked to the urgent digitization of their book funds.
Based on the BCCI's experience in financing films for distinguished Bulgarians that have contributed to the prosperity of our country, Simeonov noted the need for more transparency of film financing procedures and regulation of corporate patronage - a tool through which important projects in culture could be co-financed.