NEWS FROM BCCI
The Ambassador Extraordinary and Plenipotentiary of Uzbekistan visited BCCI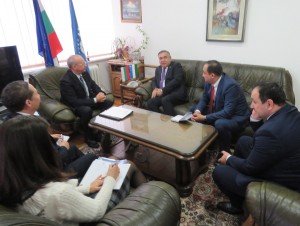 H.E. Alisher Agzamhodjaev, Ambassador Extraordinary and Plenipotentiary of Uzbekistan responsible for Bulgaria and Turkey, visited BCCI and met with the Chamber's President Tsvetan Simeonov right after submitting his credentials to the Administration of the President of the Republic of Bulgaria.
Tsvetan Simeonov informed his guests about BCCI's long-standing cooperation with the Chamber of Commerce and Industry of Uzbekistan, the Uzbek Foreign Information - Commercial Center "Uzincomcenter", the Chamber of Commodity Producers and Entrepreneurs of Uzbekistan, and the Information Support and Foreign Investments Promotion Agency "Uzinfoinvest".
Ambassador Agzamhodjaev presented up-to-date information on the country's economic development, investment guide and useful information on how to do business in Uzbekistan.
The President of BCCI confirmed the Chamber's readiness to help organize an information event for Bulgarian companies in order to provide them with more details regarding business opportunities in Uzbekistan.
Simeonov pointed out that there is potential for cooperation in the sectors: agriculture, food industry, processing industry, automotive industry, pharmaceutical industry, light industry – cosmetics, etc.