INVESTMENT NEWS
Three companies plan BGN 36 million investment and 400 workplaces in Bulgaria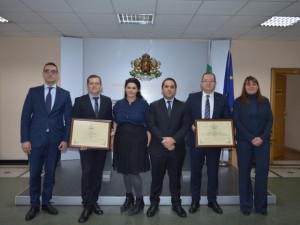 Three companies - "Ber-Hella Thermocontrol", "Axidia" and "Turbo Garant" will invest over BGN 36 million and will open nearly 400 jobs in Bulgaria. They received investment certificates under the Investment Promotion Act by Emil Karanikolov, Minister of Economy, announced the Ministry of Economy.
The certificate of "Ber-Hella Thermocontrol" Ltd. is for the construction of a new production plant. The aim is to extend the capacity for the production of appliances for servicing and managing air conditioning systems. The investment amounts to over BGN 31.6 million. The opening of 250 new jobs in the Bozhurishte Еconomic Zone near Sofia is planned.
The second project, which has been awarded an A-class investor certificate, is "Turbo Garant" EOOD. Their project is to build a service base for the repair of turbochargers. The amount of the investment is over BGN 4 million.
A first-class certificate also received Axidia AD for the envisaged development of web based, mobile and desktop software applications, after which its own product, which the company will offer on the market. The envisaged investments are BGN 720 000 own funds of the company. The project envisages the opening of 120 new jobs.
Two contracts for the implementation of a promotion measure under the Investment Promotion Act were also signed. They are for the construction of road infrastructure in connection with the certified projects of Rollost Group for over BGN 10.8 million and of Interlink Group AD for BGN 6.7 million.
The Ministry of Economy gives a total of BGN 813 488 to the Road Infrastructure Agency to build a roundabout on Lomsko Shosse Blvd. in Kostinbrod and on a municipal road in the industrial zone of Maritsa Municipality, where the projects of the two companies are implemented.
This year, under the Investment Promotion Act, 23 projects with a total value of BGN 800 million were certified. They foresee the opening of over 2000 new jobs.