NEWS FROM BCCI
Meeting with the newly appointed Ambassador of Bulgaria to Kosovo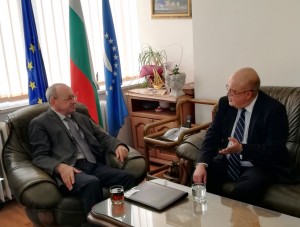 The newly appointed Ambassador of Bulgaria to Kosovo Hristo Gudzhev visited BCCI and met with the Chamber's President Tsvetan Simeonov.
They discussed the current state of the bilateral trade and economic relations. Tsvetan Simeonov acquainted Ambassador Gudzhev with the Chamber's membership in various international organizations, as well as with the work of the Unified Trade Register and the entirely digitized Arbitration Court at BCCI, and the services of GS1 Bulgaria.
For his part, Ambassador Hristo Gudzhev presented his priorities for the upcoming term of office, among which is the intensification of the commercial and economic cooperation between Bulgaria and Kosovo.
According to the data of the Bulgarian Ministry of Economy, the following dynamics in the bilateral trade in 2018 are observed, compared to 2017:
7.4% growth of trade;
10.7% growth of exports;
14.5% decrease of imports;
the trade balance remains positive for Bulgaria.