NEWS FROM BCCI
BCCI and the Georgian Chamber of Commerce and Industry seek to intensify the relations between each other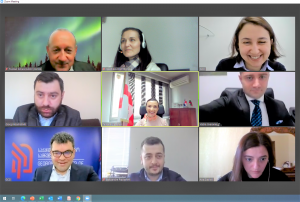 The Bulgarian Chamber of Commerce and Industry and the Georgian Chamber of Commerce and Industry held a virtual working meeting, with the cooperation of H.E. Tamara Liluashvili, Ambassador Extraordinary and Plenipotentiary of Georgia to Sofia.
In 2019, the two Chambers signed a Memorandum of Understanding aimed at expanding the cooperation between the organizations on both a bilateral and multilateral basis. They also cooperate with each other regularly within the Association of European Chambers of Commerce and Industry (EUROCHAMBRES).
Ambassador Liluashvili pointed out that the pandemic had prevented the two Chambers from carrying out the actions set out in the Memorandum, but there is at present, a readiness and various opportunities for the implementation of these actions.
The President of the Chamber Tsvetan Simeonov took the opportunity and congratulated his colleague Giorgi Pertaia, President of the Georgian CCI, on his recent election. He focused his attention on the favorable conditions for business in Bulgaria and the potential joint cooperation in several sectors: tourism, wine industry, construction, light industry, production of glass and glass products, food industry, cosmetics industry.
Giorgi Pertaia reviewed the Georgian economy, in the context of the pandemic, and informed that the Georgian Chamber has an extremely important role in supporting the Georgian companies to overcome the challenges and the crisis - by issuing force majeure certificates, consultations, training for online sales, etc.
The participants in the meeting agreed to continue their cooperation, in a virtual format with an exchange of information, not only for the services offered by the two Chambers, but also with the provision of beneficial economic data for the companies when making decisions to enter on the relevant markets.