NEWS FROM BCCI
BCCI awarded the Ambassador of the Republic of Argentina in Sofia H.E. Alberto A. M. Trueba with an Honorary Diploma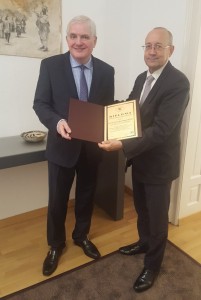 The President of the Bulgarian Chamber of Commerce and Industry (BCCI) Tsvetan Simeonov presented H.E. Alberto A. M. Trueba, Ambassador Extraordinary and Plenipotentiary of the Republic of Argentina in Sofia with an Honorary Diploma on the occasion of the end of his term of office in Bulgaria.
The Chamber awarded Ambassador Trueba for his active collaboration with the Bulgarian Chamber of Commerce and Industry and for his contribution to the development of the economic ties between Bulgaria and Argentina during his term of office.
Since the beginning of the Ambassador's 4-year-term in Bulgaria in June 2016, BCCI and the Embassy of Argentina have regularly exchanged important economic information, cooperated with businesses from both countries, organized joint events to intensify the bilateral cooperation. Ambassador Trueba also held a series of regional meetings, including with the regional chambers of commerce and industry in Burgas and Stara Zagora.