NEWS FROM BCCI
Business delegation from Japan visited BCCI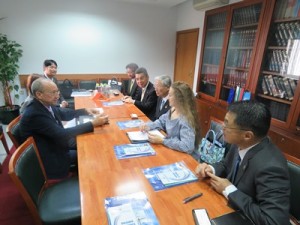 A delegation of the National Federation of Agricultural Cooperative Associations in Japan (NFACA) and representatives of company ZEN-NOH Foods Co., Ltd. visited BCCI and met with the Chamber's President Tsvetan Simeonov.
The aim of the work visit was to get acquainted with the activities of the Chamber and to present a Japanese investment in Plovdiv for the production of frozen sushi. Mr. Syouichi Momose, President of ZEN-NOH Foods Co., Ltd. said that the idea of the company was for the plant in Plovdiv to become their starting point for the entire European market. The current economic situation in Bulgaria was discussed as well as the country's traditions in agriculture.
The President of BCCI Tsvetan Simeonov expressed readiness on behalf of BCCI and the 28 regional chambers of commerce and industry to provide assistance for the execution of the goals of the company, and presented the relations of the Chamber with partner organizations from Japan. He also pointed out BCCI's excellent cooperation with the Embassy of Japan in Bulgaria.
During the meeting, the activity of the Bulgarian – Japanese Economic Council (BJEC) at BCCI was also presented, together with the advantages of the Arbitration Court for resolution of commercial disputes.