Назад
GC Summit South East Europe 2023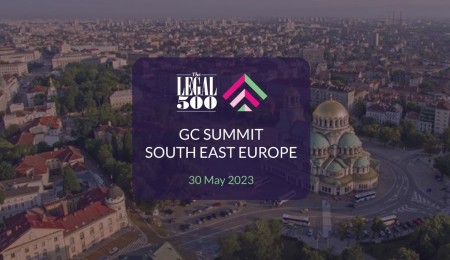 Date: Tue 30 May 2023
Time: 9.00am-6.30pm
Venue: Sofia Balkan Palace, 5, pl. "Sveta Nedelya" Square, 1000 Sofia, Bulgaria
The Legal 500 looks forward to welcoming delegates to the return of its annual GC Summit South East Europe, on 30th May 2023. For the first time in over three years, The Legal 500's editorial team will venture back to Sofia, Bulgaria, to bring together the region's top in-house counsel to share challenges, stories and, most importantly–solutions to the issues that they face.
In association with our partners for this event, Penkov, Markov & Partners; Pekin & Pekin; Nagy és Trócsányi; Georgi Dimitrov Attorneys and Jankovic Popovic Mitic; this event will include a series of panel sessions covering a variety of cutting edge and up to date topics for discussion.
This includes understanding and overcoming data privacy challenges, managing international disputes, adapting to a new M&A landscape, the rise of legal tech, the growing importance of ESG and green energy, and overcoming labour and employment issues.
Drawing on the vast experience of highly accomplished speakers, this event will provide practical, hands-on advice to all in-house counsel.
It is a must-attend event for any in-house counsel based across South East Europe who may be aiming to reach the next level of their professional development.
More information HERE