Назад
BCCI expands its partnership with the Council of Saudi Chambers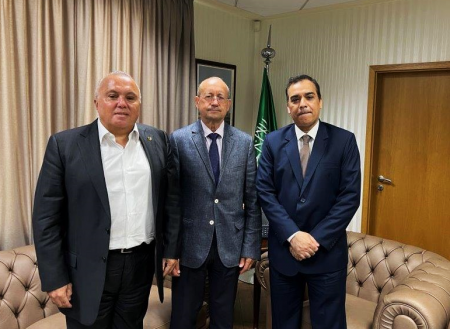 In continuation of the first visit of H.E. Khalid Faqeeh, Ambassador of the Kingdom of Saudi Arabia to the Bulgarian Chamber of Commerce and Industry at the beginning of the year, Tsvetan Simeonov visited the Embassy of Saudi Arabia and spoke with the Ambassador and his advisors. Ahmad Alaeddine, President of the Association of Bulgarian - Arab Economic Chambers, also took part in the meeting.
The common interests of both countries in sectors such as energy, oil and gas industry, chemical industry, medicine, agriculture and food industry were in the focus of the discussion.
Ambassador Faqeeh emphasized that there is readiness to activate the cooperation between the BCCI and the Council of Saudi Chambers, which dates back to 2011. In this regard, a visit of a business delegation from Saudi Arabia to Bulgaria in 2022-2023 was discussed.
The President of BCCI Tsvetan Simeonov presented the possibility of organizing an exhibition of Saudi Arabian products in Sofia.
The hosts drew attention to the fact that the procedure for Saudi Arabian citizens to obtain entry visas for Bulgaria is very long /about a month/ and this repels businessmen, investors and potential tourists.
During the meeting, it was agreed to exchange information on potential projects that Bulgarian partners can offer to investors from Saudi Arabia.