Назад
The partnership with the Embassy of Pakistan in Bulgaria continues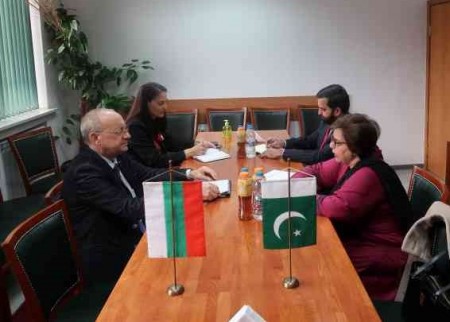 H.E. Mariam Madiha Aftab, Ambassador of Pakistan to Bulgaria, and Deputy Head of Mission Omer Manzoor Malik visited BCCI and met with the President - Mr. Tsvetan Simeonov.
The guests expressed their satisfaction with the online event which was held at the beginning of the week between the Bulgarian Chamber of Commerce and Industry and the Sialkot Chamber of Commerce and Industry, Pakistan. Mr. Simeonov confirmed the readiness of the Chamber to continue the cooperation by means of the organization of specialized exhibitions and events intended to connect new business ideas from the two countries.
During the conversation, Ambassador Aftab informed about the upcoming TEXPO exhibition, which will be held from 26 to 28 May this year at Expo Center Karachi. The event aims to connect buyers from around the world with Pakistani textile and leather goods manufacturers.
The diplomats noted that the export of textile and leather products from Pakistan to the EU is carried out under the terms of the EU's General System of Preferences /GSP+/ on a duty-free basis.
An online joint event is about to be held between the BCCI and the Federation of the Pakistani Chambers of Commerce, in connection with the established bilateral business council.