Назад
68th meeting of WTO Commission for Europe opens in Sofia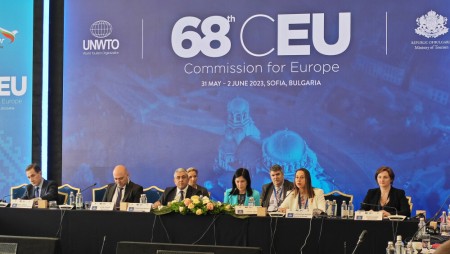 The 68th Meeting of the World Tourism Organization (WTO) Commission for Europe opened in Sofia.
Participating are ministers, deputy ministers and senior tourism officials from 40 countries.
The meeting will take place between May 31 and June 2.
"The busy agenda includes policies, measures and solutions to the development of tourism, which is one of the key industries in Europe ", said Bulgarian Tourism Minister Ilin Dimitrov at the opening. He stated Bulgaria's ambition to continue to play a key role and contribute to the formation of the key messages and policies in tourism in Europe. For his part, WTO Secretary General Zurab Pololikashvili during his meeting underscored that Europe is the continent of the greatest significance and weight in world tourism.
He commended the Bulgarian Tourism Ministry for the preparations of the forum. The presence and support of Bulgaria's institutions show that tourism is key to the country, there are many projects underway and I am convinced that the meeting of the commission will be a huge step ahead for Bulgaria and a chance to support tourism here," said Pololikashvili.
Recent years have brought many challenged and issues to resolve in tourism and the sustainability of the sector suffered badly due to the pandemic, the military conflict in Ukraine and economic effects, disrupted supply chains, inflation processes and lack of labour. However, Dimitrov voiced optimism and noted that latest WTO rankings Bulgaria is among the top ten best recovering countries after the pandemic.
Pololikashvili said that Bulgaria has untapped potential which can be developed through closer cooperation with WTO and European partners.
Alessandra Priante, head of the UNWTO Europe Department, said that the meeting in Sofia is historic because of the record large number of participants and the important decisions that are voted.
Sofia has hosted two congresses under the WTO auspices in 2016 and 2018, on the topic of world cultural heritage and ancient routes.
The meeting will take place between May 31 and June 2.