NEWS FROM BCCI
The traditional award ceremony, called "The Balkan Wine Oscars", was held in Sofia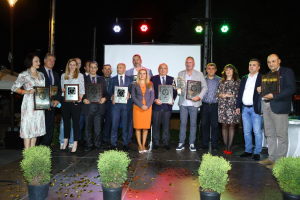 Triumph Selection from the Serbian winery Vinarija Aleksandrović was declared the best wine in the Balkans at the moment. The decision of the expert jury of the ninth Balkan International Wine Competition and Festival (BIWCF) became clear on the wine festival in Sofia. The traditional award ceremony, called "The Balkan Wine Oscars", was held outdoors for the first time and was open to all visitors to the wine town in front of the National Palace of Culture.
The new rotation system of the host countries, announced last year, debuted in the Serbian capital, Belgrade. The 15 judges from 11 countries chose the winners in all categories among the record 230 participants. The chairman of the jury for the ninth time was the first Master of Wine in the Balkans - Konstantinos Lazarakis.
The next country to host the competition will be North Macedonia. This was announced by Galina Niforou, director of BIWCF, from the festival.
The Balkans Wine Festival lasted until September 19 and welcomed the residents and guests of Sofia in a specially built Wine Town in the park in front of the National Palace of Culture. In addition to getting acquainted with some of the most interesting wineries in Bulgaria and the Balkans, wine lovers had the opportunity to taste the award-winning wines in a special Golden Tent.
Here is the complete list of trophy holders in the different categories:
Best White Wine Trophy - Trijumf Selection, Vinarija Aleksandrović, Serbia
Best Red Wine Trophy - Cabernet Sauvignon, Vinarija Radlović, Serbia
Best Rose Wine Trophy - Epic Pinot Noir Rose, Staro Oryahovo Winery, Bulgaria
Best Sparkling Wine Trophy - Brut Rose, Edoardo Miroglio, Bulgaria
Best Orange Wine Trophy - Tri Morave reserve white, Vinarija Temet, Serbia
Best Sweet Wine Trophy - Sigalas Vinsanto, Domaine Sigalas, Greece
Best Best Indigenous White variety Trophy - Santorini Skitali, Hatzidakis Winery, Greece
Best Indigenous Red variety Trophy - Barovo Red, Tikves Chateaux & Domaines 1885, North Macedonia
Best Indigenous Sweet wine Trophy - Malvasia, Monemvasia Winery, Greece
Best Label Design Trophy – Vinarija Jungic, Bosnia and Herzegovina
Traditionally, the Bulgarian Chamber of Commerce and Industry (BCCI) is among the partners of the Balkan International Wine Competition and Festival (BIWCF).