NEWS FROM BCCI
Discussion at the BCCI with the participation of the Bulgarian EU Commissioner Maria Gabriel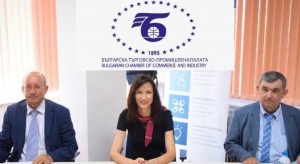 A call for projects worth 1 billion euros is expected to be opened by the European Innovation Council on September 18th for projects in ten areas - from energy to civic participation. That's what the Bulgarian EU Commissioner Maria Gabriel said at a round table "EU Innovation Development Policy for the 2021-2027 Programming Period and the place of the Republic of Bulgaria in this process." Initiator of this discussion was the BCCI Innovation Council with the assistance of Enteprise Europe Netwrok and it was held virtually.
At the opening of the discussion, the President of the BCCI, Mr.Tsvetan Simeonov, underlined the commitment of the Chamber to support research and innovation.
In her introductory presentation, Maria Gabriel outlined the planned initiatives in her portfolio in the 2021 - 2027 Programming Period and some novelties within the program "Horizon - Europe", which is important to be identified by business as their own. She clarified that the establishment of the European Innovation Council will enable start-ups as well as small and medium-sized businesses to have direct access to funding.
Maria Gabriel announced that the registration for the European Research and Innovation Days is open. The event will be held virtually on September 22-24 with interesting interactive presentations. Registration HERE
After the presentation of EU Commissioner Maria Gabriel, representatives of the academic community in Bulgaria took part in the round table with presentations.