NEWS FROM BCCI
Presentation of opportunities for financing companies from different economic sectors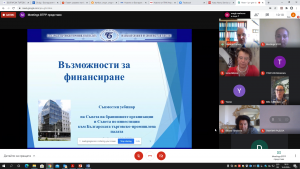 The Council of Branch Organizations and the Investment Council of the Bulgarian Chamber of Commerce and Industry held a joint online event, aimed at presenting funding opportunities for companies from different economic sectors through number of tools - banks, funds, programs, etc.
BCCI President Tsvetan Simeonov welcomed the initiative to use the capacity of the two Councils, especially at a time when entrepreneurs can not travel as usual and partnerships and contacts increasingly happen in an electronic environment. In the year BCCI celebrates its 125th anniversary, the President highly appreciated the activity of the two Councils and recommended wide dissemination of the information shared during the event in order more companies to benefit from it.
Vladimir Tomov, Chairman of the BCCI Investment Council, presented the activities of the Council, consisting of banks, funds, private investors, national and European organizations that support investments. He explained that the Investment Council can assist Bulgarian companies and business organizations in finding the most appropriate sources of funding for the specific business case.
The participants in the event asked very specific questions related to the opportunities to support family companies with a history, but without plans for the future, to find investors from abroad, specific programs for SMEs, etc.
Investment Council contacts: e-mail: g.dimitrova@bcci.bg, tomov@intrac-investment.com