NEWS FROM BCCI
The Balkans International Wine Competition, BIWC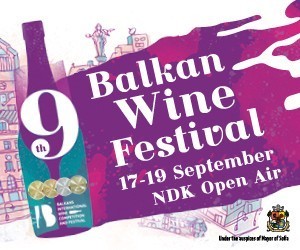 Triumph Selection from the Serbian winery Vinarija Aleksandrović was declared the best wine in the Balkans at the moment. The decision of the expert jury of the ninth Balkan International Wine Competition and Festival (BIWCF) became clear on the first day of the wine festival in Sofia. The traditional award ceremony, called "The Balkan Wine Oscars", was held outdoors for the first time and was open to all visitors to the wine town in front of the National Palace of Culture.
The Bulgarian Chamber of Commerce and Industry as an organization encouraging Bulgarian manufacturers, for the 9th consecutive year supports the Bulgarian Wine Festival initiative, confident that cooperation and contacts between Balkan companies will be good for the region and its competitiveness at the European and world markets.
The new rotation system of the host countries, announced last year, debuted in the Serbian capital, Belgrade. The 15 judges from 11 countries chose the winners in all categories among the record 230 participants. The chairman of the jury for the ninth time was the first Master of Wine in the Balkans - Konstantinos Lazarakis.
The next country to host the competition will be North Macedonia. This was announced by Galina Niforou, director of BIWCF, from the festival.
The official award ceremony yesterday was opened by the Deputy Minister of Agriculture, Food and Forestry Dr. Lozana Vasileva. She also gave the Grand Trophy to the Serbian winery Vinarija Aleksandrović.
All wine lovers currently in Sofia are kindly invited to visit the wine festival today (from 5 p.m. to 10 p.m.) and tomorrow (from 1 p.m. to 10 p.m.)