NEWS FROM BCCI
Meeting with Patty Lin, Director of Taiwan Trade Center in Sofia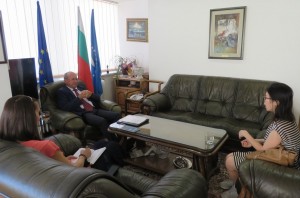 The President of BCCI Tsvetan Simeonov held a working meeting with Mrs. Patty Lin, Director of Taiwan Trade Center in Sofia. During the meeting the state of the two economies in a situation of pandemic, joint activities and events were discussed.
Patty Lin presented initiatives of business organizations as well as the local government in Taiwan to combat the virus. As is known, Taiwan was prepared for the pandemic and very quickly adapted its manufacturing and now offers masks, protective equipment, clothing, medicines, tests and other necessary materials. Discipline and strict adherence of the Taiwanese people to the restrictions imposed are also important for the low morbidity. Mrs. Lin introduced the Taiwan Global Anti Covid 19 Pavilion established by the Taiwan External Trade Development Council /TAITRA/.
Future cooperation between BCCI and the Importers and Exporters Association of Taipei /IEAT/ was discussed, as well as initiatives with the traditional partner of the Chamber TAITRA.
Simeonov emphasized some sectors of the Bulgarian economy that are developing well and have the potential for development of trade relations with Taiwan - the food industry, wine production, etc.