NEWS FROM BCCI
A delegation of Swiss investors is expected to visit Bulgaria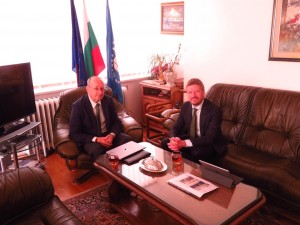 Dr. Dominik Isler, CEO of the Swiss Economic Forum, visited BCCI and met with the Chamber's President Tsvetan Simeonov.
Dr. Isler visited the country to consider the possibilities of developing new investment projects in Bulgaria. During the meeting with Tsvetan Simeonov, he got familiar with the favorable macroeconomic conditions for local and foreign businesses. The President of BCCI informed his guest about Bulgaria's stable economic growth, low taxes, lack of currency risk, low domestic debt, etc. He pointed out that 90% of the Swiss companies that had already invested in Bulgaria are planning to expand their activity. Information was also provided on the difficulties faced by businesses in the country and possible solutions related to specialized training of employees, introduction of innovations, mechanization, etc.
During the meeting, it was agreed that BCCI would help organize a visit to Sofia of a delegation of potential investors from Switzerland in September this year.