NEWS FROM BCCI
Enhancing the cooperation with Pakistan was discussed at BCCI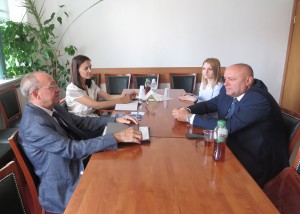 At the Bulgarian Chamber of Commerce and Industry a meeting with the newly appointed Ambassador of Bulgaria to the Islamic Republic of Pakistan - Assoc. Prof. Alexander Parashkevov was held. The President of the Chamber Tsvetan Simeonov discussed with his guest and Irena Gancheva, Advisor at Directorate "Asia, Australia and Oceania" of the Ministry of Foreign Affairs, topical issues related to the development of the economic and trade relations between Bulgaria and Pakistan.
Simeonov acquainted the Ambassador with the work of BCCI and in particular its relations with the Federation of Pakistan Chambers of Commerce and Industry, as well as the planned exchange of business visits in the second half of 2019. BCCI has invited its partners from Pakistan to organize an exhibition of Pakistani goods in Sofia.

During the meeting the establishment of a joint council between Bulgarian and Pakistani companies, which BCCI is preparing, was also discussed.