UPCOMING EVENTS
PropTech Bulgaria 2020 - The SEE Conference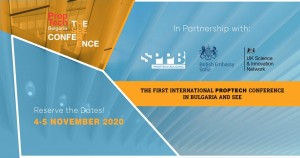 PropTech Bulgaria 2020 | The SEE Conference is the best place to get to know the SEE market, learn market specifics, know the right people in each country if you want to expand, find prospective partners, and scout for clients!
A great crowd of PropTech expert speakers are on board. Event speakers come from 15 PropTech countries, namely, Belgium, the UK, Germany, Austria, the Netherlands, South Korea, Bulgaria, Czechia, Slovakia, Romania, Singapore.
The event will be fully digital and will take place on 4-5 November 2020.