NEWS FROM BCCI
The newly appointed Ambassador of Japan at his first meeting at the BCCI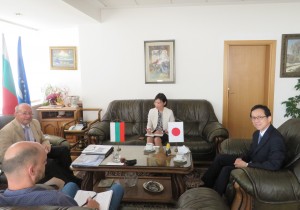 The newly appointed Ambassador of Japan HE Hiroshi Narahira visited the BCCI and talked with its President Mr.Tsvetan Simeonov. Michiyo Miyamoto, Second Secretary in the Embassy's economic section, also participated in the meeting.
Mr. Simeonov presented the BCCI as the oldest business organization in the country, which celebrates its 125th anniversary this year.
The Ambassador was acquainted with the initiative for restoration of the house of the first President of the Chamber – Mr. Ivan Grozev, in Karlovo. His family home is a museum now, visited by organized student groups. The functioning of the Commercial Register and the Arbitration Court at the BCCI as well as the activity of the GS1 Bulgaria Association were also presented, The President of the BCCI highlighted the beneficial partnership with the Embassy of Japan in Sofia.
Ambassador Narahira praised the bilateral co-operation and declared readiness to support the development of economic relations based on the excellent and long-standing friendship between the two countries. The Japanese-Bulgarian Business Association, established earlier this year, will facilitate this.