NEWS FROM BCCI
Presentation of opportunities for business cooperation with Poland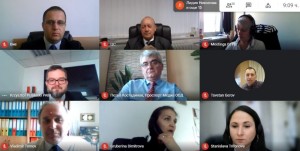 The Council of Sectorial Organizations and the Investment Council at BCCI, with the assistance of the Polish Investment and Trade Agency and Enterprise Europe Network, organized an online meeting "Current Business Opportunities with Poland".
The event was opened by Tsvetan Simeonov, President of the Bulgarian Chamber of Commerce and Industry. Other speakers were Dr. Lyudmil Ivanov, Chairman of the Council of Sectorial Organizations at BCCI, Vladimir Tomov, Chairman of the Investment Council at BCCI, and Krzysztof Przylucki from the Polish Investment and Trade Agency.
The participants got acquainted with the opportunities for bilateral trade and economic cooperation and had the opportunity to ask questions to the representatives of the Polish Trade Mission.
Current financial and investment products to support joint projects were presented at the meeting.
Emphasis was placed on the transfer of Polish technologies to our country in the field of railway transport, opportunities for cooperation in transport logistics and combined transport.
The establishment of contacts with foreign partners and the assistance provided by Enterprise Europe Network to companies were presented by Stanislava Trifonova, EEN Expert at the BCCI.