NEWS FROM BCCI
Meeting with the newly-appointed Ambassador Extraordinary and Plenipotentiary of Bosnia and Herzegovina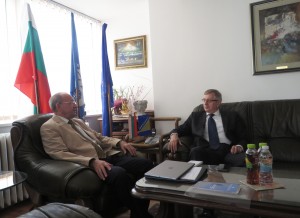 The newly-appointed Ambassador Extraordinary and Plenipotentiary of Bosnia and Herzegovina in Bulgaria H.E. Zdravko Begovic visited BCCI and discussed the current status of the bilateral trade and economic relations with the President of the Chamber Tsvetan Simeonov.
Tsvetan Simeonov acquainted Ambassador Begovic with the activities of the Chamber and the main services it provides in support of businesses, such as the Unified Trade Register of BCCI, the Arbitration Court, and GS1 Bulgaria. The contribution of the Bulgarian Presidency of the Council of the EU for the inclusion of the topic of the Western Balkans on the EU agenda was noted. The activity of the Association of Balkan Chambers, established on the initiative of BCCI, was also discussed.
It was agreed that in the autumn of 2019 the Embassy of Bosnia and Herzegovina in cooperation with BCCI to organize an exhibition in Sofia of Bosnian goods and services in the field of furniture industry, cosmetics and information technology. BCCI will additionally inform its members about the dates of the event.