NEWS FROM BCCI
The partnership with the Portugal Global Trade and Investment Agency continues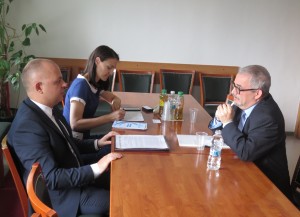 The Secretary General of BCCI Vasil Todorov met with the Director of the Portugal Global Trade and Investment Agency (AICEP) Joaquim Pimpao, seated in Budapest. The topics of discussion included the economic development of Bulgaria and the potential areas of cooperation with Portugal. Vasil Todorov presented up-to-date information about the economic growth and perspective sectors of the Bulgarian economy.
He also presented the activities of BCCI aimed at solving the problems which Bulgarian companies and foreign investors encounter in their work.
The cooperation between BCCI and AICEP dates back to 1982 and consists of facilitating contacts between companies from Bulgaria and Portugal with common interests, organizing business forums and bilateral meetings.
According to data of the Ministry of Economy, in 2018 trade turnover between Bulgaria and Portugal increased by 9.5% compared to 2017 and amounted to EUR 186.6 million. Exports to Portugal registered a 15.5% decline, amounting to EUR 99.5 million. Imports grew by 65.2% and reached EUR 87.1 million. The trade balance is positive (EUR 12.3 million). Portugal ranks 35th among Bulgaria's partners in terms of exports and 39th with regard to imports.
According to data of the Bulgarian National Bank for the period 1996 – 2018, the attracted investments from Portugal amount to EUR 49.6 million.