NEWS FROM BCCI
BCCI hosted the regular meeting of the Board of Directors of the Black Sea Economic Cooperation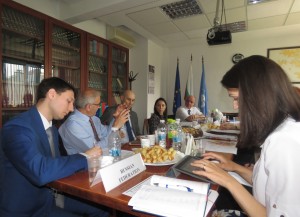 The Bulgarian Chamber of Commerce and Industry hosted the 60th regular meeting of the Board of Directors of the Black Sea Economic Cooperation (BSEC) Business Council. Representatives of BCCI's partners from Armenia, Azerbaijan, Greece, Romania, Russia and Ukraine took part in the discussion.
BCCI presented a report on the activities completed by the BSEC Business Council since the beginning of the year, as well as information about several upcoming events until the end of the 6-month Chairmanship-in-Office. A new website of the organization is being developed in order to facilitate communication with partners. The possibility for companies with serious interests in the region to join the BSEC Business Council as associated members was also discussed. Participation in various joint projects was another topic of discussion.
The biggest event held within the framework of the Bulgarian Chairmanship-in-Office of the BSEC Business Council was the Balkan Wine Competition and Festival, which this year included representatives of the Black sea countries.
The priorities of the next BSEC Chairmanship-in-Office were presented by Charilaos Alexopoulos, representative of Thessaloniki Chamber of Commerce and Industry. Greece will assume the rotating Chairmanship-in-Office of the organization in the period July – December 2019.