NEWS FROM BCCI
The Bulgarian Ambassador to Vietnam H.E. Marinela Petkova visited BCCI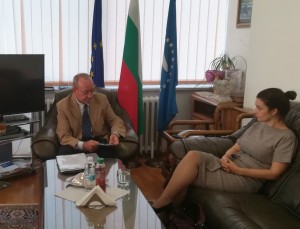 The Bulgarian Ambassador to the Socialist Republic of Vietnam – H.E. Marinela Petkova, visited BCCI and met with the President of the Chamber Tsvetan Simeonov. The diplomat has been occupying various positions at the Embassy in the Asian country for four years. Simeonov discussed with Ambassador Petkova the upcoming visit of a business delegation from Vietnam to Bulgaria and the accompanying business forum prepared by BCCI, as well as issues concerning the bilateral economic cooperation.
BCCI is a partner of the Embassy of Vietnam in Sofia in the preparation of the upcoming business event, which will take place on 7 October. The delegation, led by the Vietnam Trade Promotion Agency, includes business representatives from the following sectors: food industry and agriculture, machine-building, household products, recruitment, renewable energy, banking and finance.
A collaboration between BCCI and the Bulgarian Embassy in Vietnam regarding the possibility of importing labour from Vietnam into Bulgaria was also discussed. Ambassador Petkova reminded that in 2008 a Memorandum promoting the cooperation in the field of labour and social policy was signed between the Ministry of Labour and Social Policy of the Republic of Bulgaria and the Ministry of Labour, Invalids and Social Affairs of the Socialist Republic of Vietnam, which envisages promotion of labour mobility. In Vietnam, however, this opportunity is also linked to the requirement for training - language and specific skills. It should be borne in mind that seasonal employment is not applicable to Vietnam workers, Ambassador Petkova emphasized.
Information was also shared about the recent visit of the First Deputy Prime Minister of Vietnam Truong Hoa Binh to Bulgaria and his meetings with the Bulgarian Deputy Prime Minister and Minister of Foreign Affairs Ekaterina Zaharieva and Deputy Prime Minister Tomislav Donchev, during which the two countries agreed to intensify their cooperation in all spheres, with priority in trade, economy and education.
The 24th session of the Joint Committee on Trade, Economic, Scientific and Technical Cooperation is being prepared, which will take place in Sofia on 26 November 2019. It is expected that programmes for bilateral cooperation in the field of tourism and culture will be signed during the joint committee meeting.
In 2020, Bulgaria and Vietnam mark the 70th anniversary since the establishment of the bilateral diplomatic relations.