NEWS FROM BCCI
A series of meetings dedicated to the establishment of a Bulgarian-Moroccan Chamber of Commerce and Industry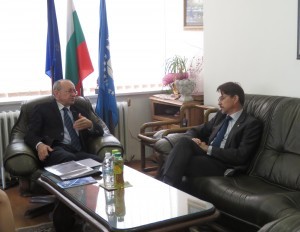 The idea for the establishment of a joint Bulgarian-Moroccan Chamber of Commerce and Industry/Business Council was proposed by BCCI in 2005, but only in the last year concrete steps have been taken in this direction. Business and governmental visits to both countries have been the catalyst for the idea and there is already readiness to implement it.
The steps taken and the progress in setting up a joint business organization were discussed during a meeting between the President of BCCI Tsvetan Simeonov and the newly appointed Ambassador of the Republic of Bulgaria to the Kingdom of Morocco Yuriy Sterk, currently Deputy Minister of Foreign Affairs, who will travel to Rabat in a month to start his mission. The topics of discussion included also the open issues in the trade and economic relations between Morocco and Bulgaria and the possibility of preparing a Moroccan exhibition of traditional goods in Sofia, with the assistance of BCCI, thus shortening the distance between the Moroccan producers and the Bulgarian consumers.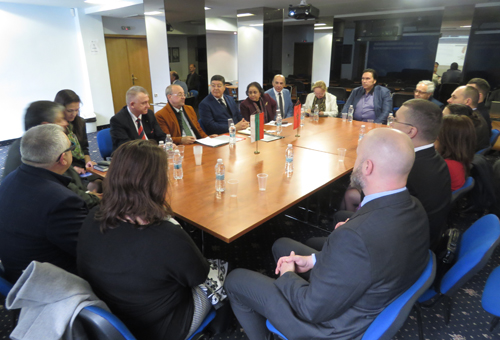 Another meeting at BCCI, with the participation of H.E. Mrs. Zakia El Midaoui, Ambassador Extraordinary and Plenipotentiary of the Kingdom of Morocco to Bulgaria, was dedicated to the intensification of the bilateral trade and economic relations. The Ambassador expressed her satisfaction with the exchanged delegations and visits, the last one being at Prime Minister level. In 2018, a large official and business delegation from Bulgaria visited the Kingdom of Morocco and several agreements were signed to facilitate cooperation between the two countries in different areas. Bulgaria and Morocco are friendly countries, but trade between them is not active enough, Ambassador Midaoui said. She informed the participants in the meeting of Morocco's wish to appoint Asparuh Karastoyanov, a businessman and member of the Board of Directors of BCCI, as Honorary Consul of the Kingdom in Bulgaria.
Mohamed H'Midouche, Deputy Chairman of the Moroccan Association of Exporters (ASMEX), presented the organization which has 6 000 members and maintains relations with partners from the five continents. He explained the possibilities for funding of national and international projects in Morocco and North Africa with the assistance of the EBRD and African banking institutions. A number of steps and ways to develop cooperation between BCCI and ASMEX were discussed.
The Bulgarian entrepreneurs participating in the meeting supported the establishment of a Bulgarian-Moroccan Chamber of Commerce and Industry, and Asparuh Karastoyanov was elected as its Chair.
Companies from the following sectors of industry will participate in the new joint chamber: agriculture, furniture production, textile industry, food and beverage industry, manufacturing of medical devices, transport, legal services, consultancy, etc.
Companied interested in joining the initiative can contact BCCI, "International Cooperation and International Organizations" Directorate at e-mail: interdpt@bcci.bg.