NEWS FROM BCCI
The newly-appointed Bulgarian Ambassador to Belarus visited BCCI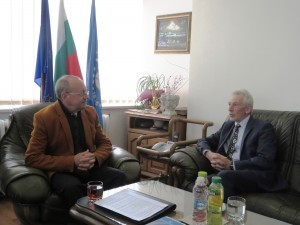 The President of the Bulgarian Chamber of Commerce and Industry Tsvetan Simeonov met with the newly-appointed Bulgarian Ambassador to Belarus Georgi Vasilev. After successfully completing his missions in Vietnam and Japan, Ambassador Vasilev shared his goals as head of Bulgaria's diplomatic representation in Minsk. The trade and economic relations between Bulgaria and Belarus need activation and encouragement, he said. In this regard, it was agreed to unite the efforts and organize joint initiatives.
Tsvetan Simeonov presented the Chamber's relations with similar organizations in Belarus, the exchanged business visits and signed cooperation agreements.
Bulgaria's exports to Belarus consist mainly of medicines, machinery and equipment, machine parts, electric batteries, etc. These goods account for about 46% of total exports to Belarus. In the import list from Belarus the leading positions include: heavy-load vehicles, pneumatic tires, tractors, spare parts and accessories for cars, etc.