TOURISM IN BULGARIA
Sea Complex in Bulgaria was named as the most innovative spa destination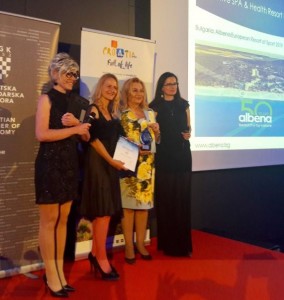 Bulgaria's Black Sea complex Albena was named the most innovative spa destination at the 24th European Spas Association Congress held in Croatia. The Secretary-General of the European Spas Association Csilla Mezösi bestowed the prize to Margita Todorova, Marketing and Sales Director of the Bulgarian tourist complex.
Albena has four spa centers that earned many quality certificates for the procedures offered at the tourist complex. The water in Albena resort is mineral and its natural temperature is around 30 degrees Celsius. It is used for the treatment of diseases of the locomotor and the nervous systems.
The European Spas Association (ESPA) congress 2019 was held (8-10 May) in Tuhelj Terme with the co-ordination of the Croatian Chamber of Industry and the Partnership of the Croatian Tourist Board.
At the opening of the congress, Croatian Minister of Tourism, Kristjan Staničić, Assistant Minister of Tourism Olivera Šarić, Vice-President of the Croatian Chamber of Agriculture and Tourism Dragan Kovačević, and ESPA Chairman Thierry Dubois, held the greeting speech.