NEWS FROM BCCI
Honorary diploma of BCCI for H.E. Ms. Ana Maria Sampaio Fernandes, Ambassador Extraordinary and Plenipotentiary of the Federative Republic of Brazil in Sofia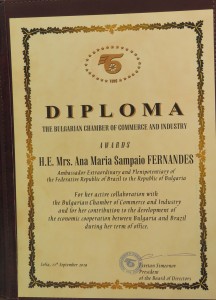 H.E. Ms. Ana Maria Sampaio Fernandes, Ambassador Extraordinary and Plenipotentiary of the Federative Republic of Brazil in Sofia, received a honorary diploma from the President of the Bulgarian Chamber of Commerce and Industry Tsvetan Simeonov on the occasion of the end of her term in our country.
The Chamber awarded Ambassador Fernandes with a honorary diploma for her active cooperation with the Bulgarian Chamber of Commerce and Industry and for her contribution to the expansion of economic cooperation between Bulgaria and Brazil during her term of office.
Since the beginning of 2106 till now, a number of events have been held by the Embassy of Brazil promoting trade and economic relations between the two countries, including President Rosen Plevneliev's official visit to Brazil and Argentina, meeting with deputies from seven Brazilian provinces, etc.
Simeonov pointed out the fact that the term of the diplomat began in an extremely active period, during which a high-level visit took place: a delegation to Brazil led by the President of Bulgaria. With the assistance of Ambassador Fernandes, the visit was organized and realized to the best possible standard.