Назад
Five International Food and Drink Exhibitions open in Sofia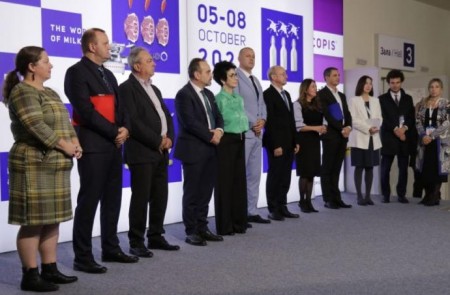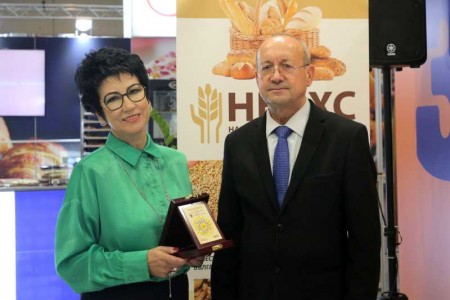 Mariana Kukusheva, President of the National Branch Union of Bakers and Confectioners presented the President of BCCI with a jubilee plaque on the occasion of the organization's 30th anniversary
Five international food and drink exhibitions opened at Sofia's Inter Expo Center on 5 October and will be on until 8 October, the organizers said. Nearly 350 companies are taking part in the events.
MEATMANIA showcases meat and meat products, additives and packaging, machines and technologies. It is co-organized by the Association of Meat Processors in Bulgaria.
In THE WORLD OF MILK, exhibitors affiliated to the Association of Dairy Processors in Bulgaria display milk and dairy products, additives, packaging, laboratory equipment and machines.
Bakery products and confectionery, raw materials, packaging and machines, demonstrated by members of the National Branch Union of Bakers and Confectioners, can be seen at BULPEK.
In the SALON DU VIN, the National Vine and Wine Chamber attracts connoisseurs of wine, spirits and accessories.
Food and drinks, organic products, additives, machines and technologies are on display at the INTERFOOD & DRINK exhibition.
"The products of farming are fundamental to the wellbeing of a nation, and the social effect of the jobs and the added value they generate are immensely important for every national economy," Bulgarian Deputy Agriculture Minister Todor Dzhikov said at the official opening of the exhibitions. "In the present situation and crisis, we need the output of agriculture more than ever before," he added.
The guests at the opening ceremony were the ambassadors of the US, Italy, Greece and South Korea, Bulgarian Chamber of Commerce and Industry President Tsvetan Simeonov, National Branch Union of Bakers and Confectioners Board Chair Mariana Kukusheva, Association of Meat Processors in Bulgaria Board Chair Atanas Urdzhanov.
At the exhibition, Mariana Kukusheva, President of the National Branch Union of Bakers and Confectioners presented the President of BCCI with a jubilee plaque on the occasion of the organization's 30th anniversary.