Назад
Hitachi Energy Bulgaria unveils high voltage product extension at Sevlievo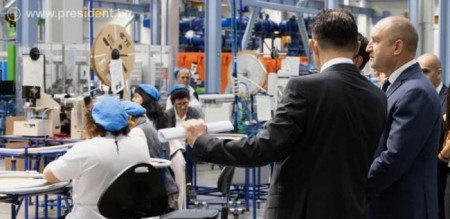 President Rumen Radev took part in the official launch of the high voltage product enlargement at the Hitachi Energy Bulgaria plant in Sevlievo.
"Attracting international technology leaders and high value-added industries changes the economic environment in Bulgaria," Radev said at the unveiling. It is important to have companies that have proven themselves as symbols of technological progress with high standards for quality and green policies in Bulgaria, he stressed.
With its technological solutions, the company promotes the development of Bulgaria's economy in a number of important sectors such as industry, transport, infrastructure by building smart green grids for flexible and sustainable generation and transmission of electricity, the President pointed out.
The head of State visited the high voltage products plant in Sevlievo at the invitation of Hitachi Energy Bulgaria and the German-Bulgarian Chamber of Industry and Commerce. Representatives of the local authorities and the executive, diplomats, as well as the company management also took part in the ceremony.
The international technology company Hitachi Energy has been operating in Bulgaria for more than 40 years and currently employs over 800 employees.