NEWS FROM BCCI
Strengthening of the bilateral business contacts between Bulgaria and Greece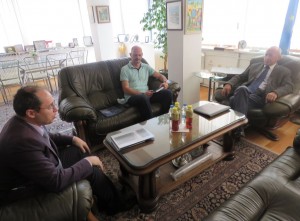 At the Bulgarian Chamber of Commerce and Industry a working meeting was held between Dimitrios Maos, First Secretary for Economic and Trade Affairs at the Greek Embassy in Sofia, and the President of the Chamber Tsvetan Simeonov. The development of the trade and economic relations between the two countries was discussed.
Mr. Maos informed that a Greek business delegation is expected to arrive in Sofia next month in connection with the Three Seas Initiative summit meeting which will be hosted by Bulgaria. Greece is an important partner of the Initiative, and during the event will share ideas related to logistics in the region.
During the meeting, important technical issues related to improving bilateral trade were discussed, on which the BCCI and the Embassy work together.