Назад
Bulgarian research scientists included in Patent Office's Golden Book at official ceremony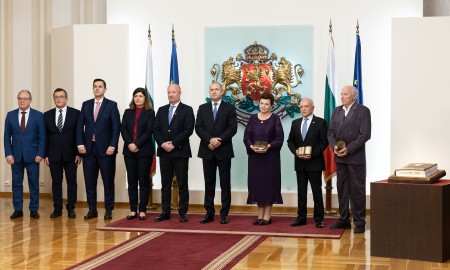 Bulgarian research scientists were registered in the Patent Office's Golden Book at an official ceremony in the President's administration building on 18 November. The Golden Book, created in 1981 to mark the 1300th anniversary of the establishment of the Bulgarian state, is opened once a year to add the names of the most outstanding Bulgarian discoverers and inventors as an acknowledgement of their scientific and creative achievements.
Registered in the Golden Book this year were Prof. Pavlina Dolashka, head of a research team at the Institute of Organic Chemistry with Phytochemistry Centre at the Bulgarian Academy of Sciences (BAS), and Prof. Kostadin Kostadinov, robotics and mechatronics professor at the Institute of Mechanics with BAS. Toms Hrant Dersarkissian, an inventor with 50 years of work in the field of industrial property, was awarded for general contribution in the field of industrial property.
Prof. Dolashka has 30 years of experience in research. She is a nature researcher who extracts biologically active substances from marine and garden snails, applicable in the battle against bacterial infectious diseases, for tissue regeneration and repair. At the beginning of the COVID-19 pandemic, when face masks disappeared from the market, Prof. Dolashka and her co-worker Prof. Nartsislav Petrov came up with samples of masks with activated charcoal filters from apricot pits, which do not let through viruses the size of coronaviruses.
Prof. Kostadinov has over 35 years of work in the field of industrial property. He is the author and co-author of 20 patents in the field of robotics and mechatronics, 11 of which have been implemented in various industries, science and medicine. He developed and implemented the Microna 01 robot for in-vitro fertilization, as well as the Hydro-Mina robot which is designed on a modular principle and is a combination of regional and local structures for micro- and nano-manipulations and surgery.
Toms Hrant Dersarkissian is the holder and co-holder of 14 copyright certificates, three patents for inventions and ten utility models in the field of automation and mechanical engineering in the mining industry. His professional career has been associated with a number of large-scale and innovative projects, starting with the pioneering in industrial gold production during sand mining, to the current innovative methods for the utilization of various technological wastes. Currently, the inventor has his efforts focused on a project for spent solar panels and on another one that breathes "new life" into old batteries.
At the ceremony, the President of the Republic of Bulgaria Rumen Radev said that the registration in the Patent Office's Golden Book is a ritual of respect for the scientists and investors with a significant contribution to the Bulgarian society's progress. He thanked all Bulgarian innovators for the persevering work, the everburning strive towards the new, the devotion to the people and contemporary society's needs, and the development of fundamental and applied science, and the attention to environmental protection.