Назад
International Armored Group begins construction of AMV plant in Burgas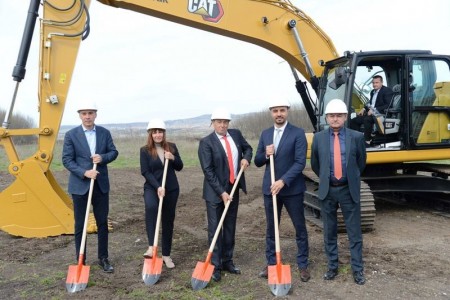 International Armored Group (IAG) has started construction of a production facility for armored vehicles in Burgas, on the Black Sea. The groundbreaking was held on 15 March by the owner of the global manufacturer, Anton Stefov, and BulgariaInvest Agency CEO Bogdan Bogdanov, Industrial Zones CEO Antoaneta Bares and Burgas Mayor Dimitar Nikolov.
"This will be one of our first plants of this size in Bulgaria. We have experience in building this type of enterprises. We are ready to make our eighth plant and we hope it will be completed promptly," said Stefov during the ceremony.
IAG's new production plant will be built on a plot, managed by Industrial and Logistics Park Burgas AD. The company plans to employ at least 300 workers and the investment is worth more than BGN 20 million.
"With the financial support of the BulgariaInvest Agency and the Economy Ministry, as well as funds from the Municipality of Burgas, we will develop the infrastructure, which will give opportunities for the implementation of other similar investments in this part of the city. This is of strategic importance for us", said Burgas Mayor Dimitar Nikolov.
At the ceremony Stefov received a Class A certificate for a priority investment project from Bogdan Bogdanov.
"The Class "A" certificate that we are presenting today to International Armored Group is also a sign of the state support we give to such projects. The important thing is that Bulgaria will have the independent production of armored equipment, and equipment of the highest world level," said Bogdanov.
He added that more than BGN 3.4 million will be allocated for the renovation and expansion of the road infrastructure to the new facility, the construction of street lighting, as well as more than BGN 140,000 to cover the insurance of the team that will be responsible for the construction of the plant. Also on display was an iconic vehicle from the IAG portfolio - the Rila 4x4. The machine is built to the highest quality standards in the defence industry and meets all NATO requirements, the owner of the manufacturing company recalled.
"The vehicle has gone trials at an artillery range. It was evaluated in one of the most rigorous tests in the field of military vehicles according to the NATO standard - STANAG," said Stefov.
Attending the ceremony were were representatives of innovative defence industry businesses from Bulgaria, the UAE, Turkiye and the US, as well as local and national government representatives.